Oh My Gouache! New Travel Palette Released
Gouache has been around a long time. But it has never been very popular - until now. Its trendiness comes from an unusual direction - from the dawn of digital illustration, actually. Adobe Illustrator software creates shape-based images with flat color fields, and this look became a style in magazine illustration because, as publishing went digital, it was easier to work with illustration that was already digital. Now the look is ubiquitous. You hardly see any other illustration style in any art or lifestyle magazine. Analog illustrators had to attend to the trend with real world art supplies.
The way to reproduce this look with paint and paper is to use Gouache (or silk screen, but that is complicated and time consuming). Gouache, pronounced goo-ah-sh, is the lowly stepsister of watercolor. While watercolor is sparkly and fancy, gouache had always been flat and stodgy. It is often referred to as "opaque watercolor". With cheap gouache, the opacity comes from adding clay or adding opaque white watercolor to transparent watercolor. As you can imagine, that dulls and lightens the color quite drastically.
Thanks for reading Santa Fe Art Cafe Newsletter! Subscribe for free to receive new posts and support my work.
But professional grade Gouache is made opaque by the size of the pigment particles - much larger and coarser than watercolor pigments. This makes for more lively color, but brings problems of its own - like that you can't use good sable brushes because they will be worn down by the large pigment particles.
And, Gouache does not do well in pans, so it does not travel well. Pans will rewet, but the result is never the same as gouache from the tube. Also, most gouache-filled pans will dry and crack like a desert floor.
This drove me crazy. It meant I could not use gouache in my travel sketching. There is one manufacturer (Caran d'ache), who makes a pan set, but it is huge and meant for studio use. So I set out to find a solution, and it took two years. I found a couple supposedly airtight plastic palette boxes out there, but all the pans were exposed to drying when the box is open to use just one or two colors. And even my M. Graham honey-based gouache, dried and cracked up.
A bunch of tubes is very hard to travel with, but I wanted to travel with wet gouache as it comes from the tube. So I needed airtight individual containers - small and convenient to carry. With some labor pains, my 3" x 5" Gouache Box was born…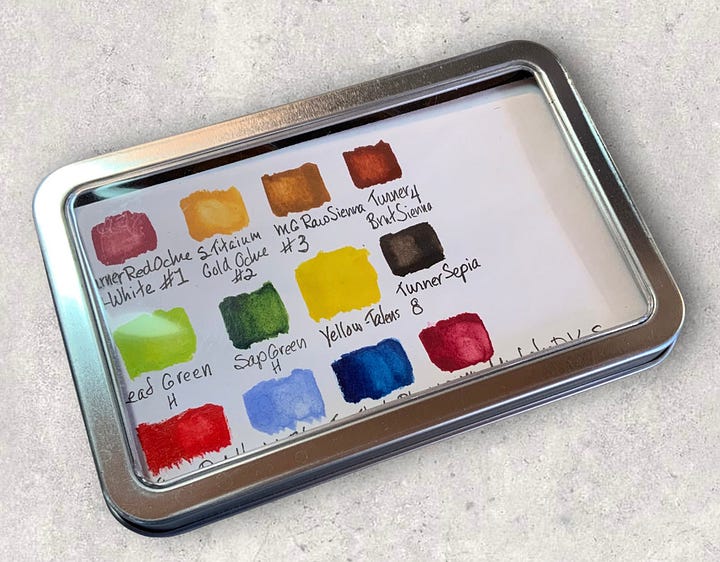 The release has been delayed from October because I wanted to do tests on how long the paint stayed wet, which was a long time (mine has been going since mid September), but I found ways to change that to forever by a little easy care and feeding. Care and Feeding Guide comes with the Gouache Box of course.
The little jars are air and water tight. They lock closed with little teeth. I filled them with water and carried them around in a paper bag all day.Not a drop got out.
Each jar is a strong magnet and will stick to any metal or to the included stainless steel palette. I stick the ones in use on a 6" metal ruler and have a "paint stick" to work with. The whole box is a very strong magnet because of the jars inside. It will sit solid on any metal surface and will cling to its own palette in your travel kit.
I have produced a limited number of these for 2022, so if you are interested, you might want to take a look at this link. The price is $52.50 - $57.00 with one or two palettes. All technical info will be in the product description here:
https://santafeartcafe.com/marketplace-shops.html#!/Paint-Boxes-&-Travel-Gear/c/142526012
I will answer any questions in Comments to this newsletter, or in the Sketchbook Artists post, but read the description first because most answers are there.
The head photo in this newsletter shows a sketchbook spread done entirely with gouache. It can be a more exciting medium than you think. I also have a great little class on four ways to use Gouache - available for $25 in Main Courses in the Santa Fe Art Cafe (you get to download and keep the video lessons) AND available on Skillshare here. If you are not a Skillshare member, you can score a month free membership at that link too.
I am very excited about Gouache and I think you will be too!
All for now
jessica
Thanks for reading Santa Fe Art Cafe Newsletter! Subscribe for free to receive new posts and support my work.