100 Days Project . . .
Rabbit Trails Are Awesome
I am notorious for starting and not finishing art challenges. Housecleaning challenges also, but we are talking art here. One of the huge reasons I fail is my penchant for wandering down rabbit trails, and finding other things that interest me.
But for some reason, this year when I heard about The 100 Days Challenge for the umpteenth time, I was listening. I like the open format (do anything for 100 days).
Santa Fe Art Cafe Newsletter is a reader-supported publication. To receive new posts and support my work, consider becoming a free or paid subscriber.
So, the first thing I had to do is choose a theme for my hundred days. I already make art everyday, so that would not be a problem, but I did not want to set up a theme that would be too definitive or repetitive, and bring on my dreaded nemesis - boredom.
The other thing I seem to do everyday is follow rabbit trails of curiosity. It seems curiosity has never killed rabbits yet for some reason. So, why not make that my theme? Another Instagram artist had chosen a Random Art theme and she planned to open an art book from her library everyday to a random page, and create an art piece inspired by something on that page. I wanted to try that too because it makes a great trailhead for rabbit trails. Also, I could rediscover what is in my art book library and maybe introduce my followers to some books they don't know about.
I have done 6 days of my 100 so far, which is about 3 days more than I make it on most challenges. Day 1 is shown at the top of the post, and here…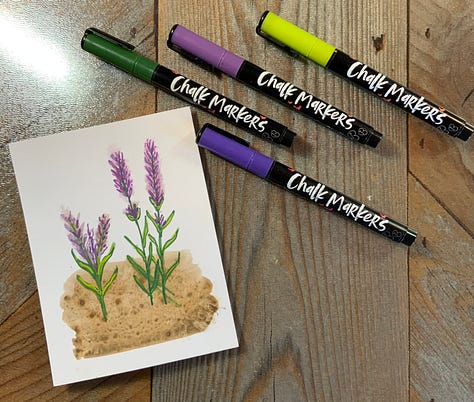 First, I discovered I own two copies of this book. It will be good to "rediscover" my art books so I don't keep buying copies!! Maybe I should have give-aways of my extra copies?
I opened The Painted Garden book (by Mary Woodin) to the spread in the third photo, and was inspired to paint some "brown paper" rectangles in my sketchbook and paint herbs on top of them. But then I thought about the dirt patch I painted in my last post here, and thought I could start with that. What medium would paint over that watercolor dirt? I chose Chalk Markers (the kind they use to put funny cartoons on donut shop windows). I had done some experimentation and found that when used on paper, they can still be dampened and blended. They are not chalk, by the way, they are acrylic, so that thing I just said is pretty unusual.
Day 2, I went back to the sketchbook where I had painted the brown "paper" swatches and tried real acrylic over these - in the form of fine tip acrylic paint pens. They also can be wet blended but it has to be right away. After they dry, they are waterproof. I am going to demo these two techniques for my paid subscribers, so stay tuned. The other cool thing is that, since these herbs are acrylic, I could wet and lift the background watercolor to get more contrast. Look at the difference between the Chives and the Basil. I lightened the background of the Chives.
Day 3 and 4 continued from an old rabbit trail. I used to teach a class called "The ABCs of Drawing" with the premise that if you know how to print the alphabet, you know how to draw all the basic shapes, so you can draw stuff. I always used the upper case printed alphabet, but when I took a painting course last year from Este Macleod, she had us do an exercise - making sketches based on the lower case letters. I had done all the sketches and done nothing with them. So, I thought painting them would make a good 26 days of my 100. If you follow on Instagram, you get to figure out where the letter is before seeing the answer. Wish I could do it that way here, but not so far. Anyway, you get the idea. These are "a" and "b".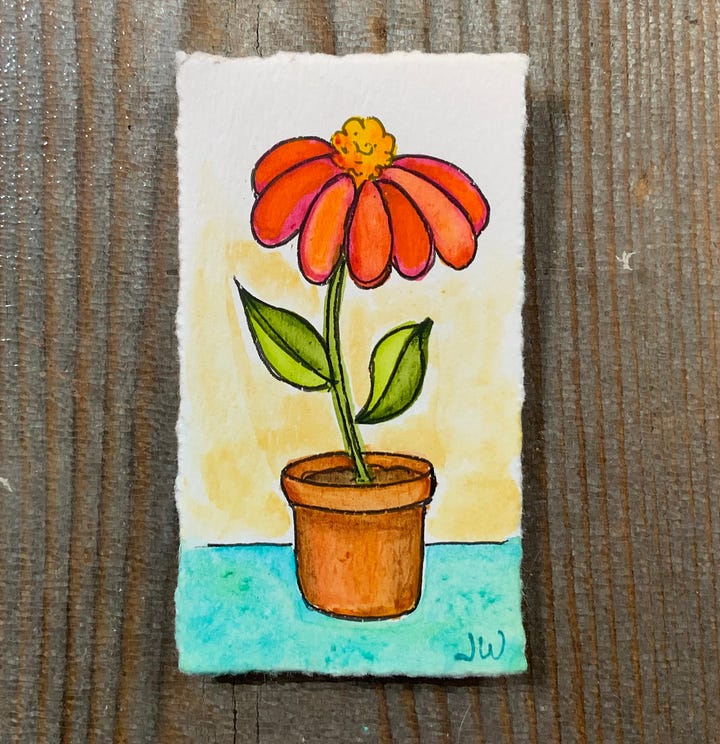 You should try this exercise. You just don't know where it will take you, because the lower case letters are so much more organic than the upper. Just write the letter and stare at it until you can see how it is part of a something. The draw the something to go with it.
Day 5 and 6, the rabbit trail took me to the idea of doing these small paintings of other stuff too. So I went and grabbed another book, by Kirsten Sevig, opened a random page, and hit a gold mine of stuff to draw. I title everything so the Envelope painting is "Three Secrets" and the other is "Croissant Moons".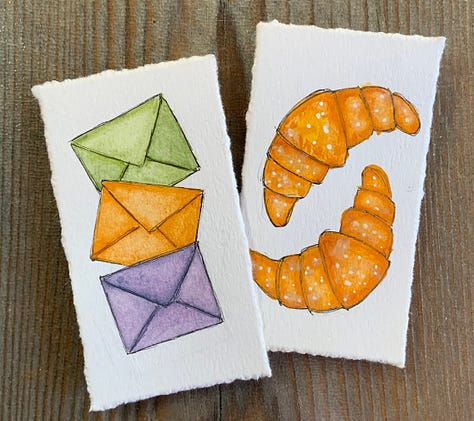 This bunny trail is taking me someplace exciting. Meanwhile, this is the most number of days I have made it in any challenge. Maybe there's hope for me after all.
What Do You Want From Me?
I want to make this newsletter the best "blog" I have ever done. It certainly is the best platform ever. I can include video, embed music playlists, make a Podcast, host reader Chats alongside chosen articles, post challenges because readers can upload pictures with your Comments. Possibilities are endless, so I would like to hear your wish lists. Here's what I would like to know:
How often do you like to receive newsletters you subscribe to? This answer refers to both free and paid subscriptions.

What kind of content would make you excited to open a new issue of my free newsletter?

What kind of content would you be excited to see in my paid subscription newsletter? If you are not a paid subscriber at this point, what kind of stuff would make you want to be one?

The sky's the limit, so don't be afraid of asking too much.
A big thank you to my new paid subscribers. You can't believe what an incentive it is when people think what you say is worth something. Put your seat belts on, because you will be getting quite a lot over the next week or so. It won't always be too much stuff, but I have to establish what kind of content my paid subscription will have, and test out how everything works.
Until next time . . .
jessica
Santa Fe Art Cafe Newsletter is a reader-supported publication. To receive new posts and support my work, consider becoming a free or paid subscriber.